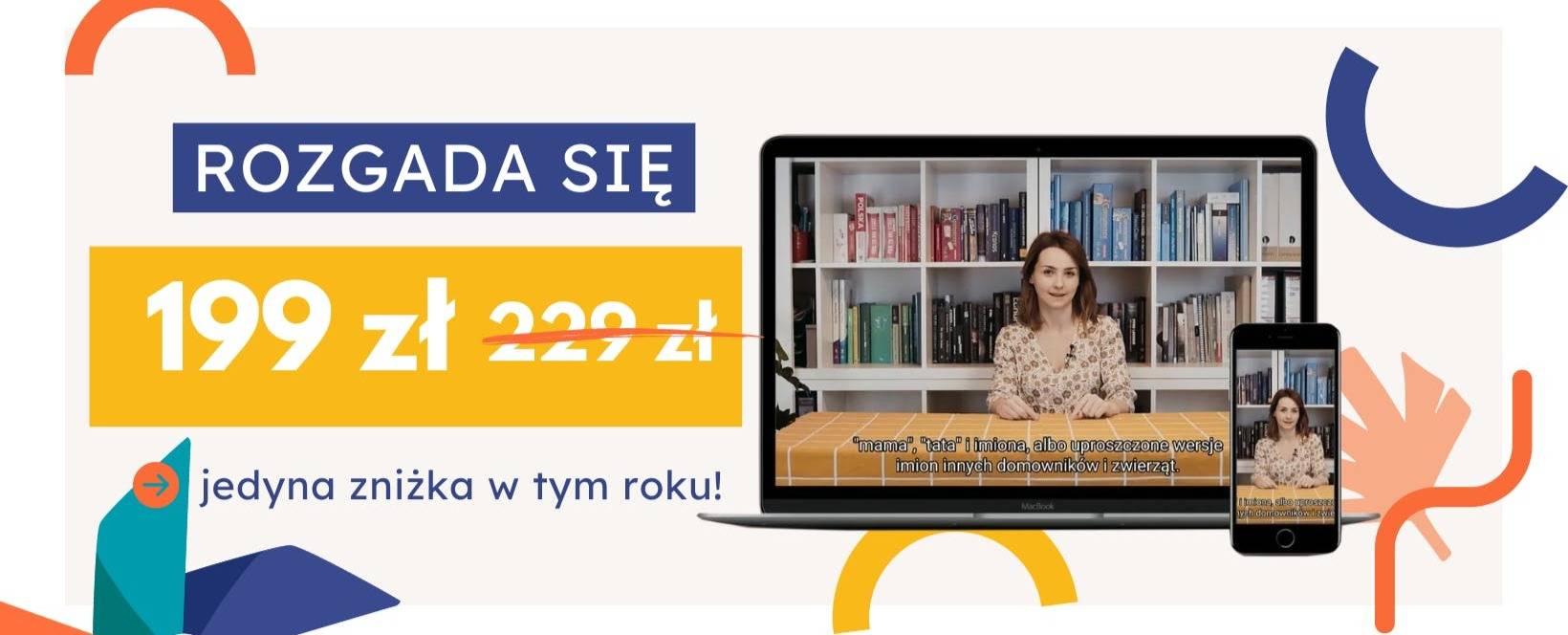 Postanowiłam rozrysować w formie schematu jedno z najczęściej zadawanych mi pytań:
Dziecko mało mówi – czy się martwić?
Na początku odpowiedz sobie na pytanie, czy na pewno to, ile mówi Twoje dziecko, może być uznane za "zbyt mało". Dwulatek nie musi mówić 300 słów – wiem, że możesz się natknąć w sieci na takie stwierdzenia, ale nie znalazły one potwierdzenia w badaniach (zob. M. Smoczyńska, 2015).
Mało, czyli ile?
O tym, że "dziecko mówi za mało", możemy mówić wtedy, gdy w danym wieku mówi:
15 miesięcy: mniej niż 2 słowa
18 miesięcy: mniej niż 7 słów
21 miesięcy: mniej niż kilkanaście słów
24 miesiące: mniej niż 50 słów
27 miesięcy: dziecko nie składa prostych, 2-elementowych zdań
30 miesięcy: nie przybywa po kilka nowych słów w każdym miesiącu
33 miesiące: dziecko nie jest zrozumiałe dla osób spoza najbliższego otoczenia
36 miesięcy: zasób słownictwa i zdań jest zbyt mały, aby dziecko mogło wyrazić swoje potrzeby i myśli
To martwić się, czy nie?
Zerknij na ten schemat, w którym z precyzją Jacka Gmocha rozrysowałam scenariusze, które doprowadzą Cię do "martw się" lub "nie martw się":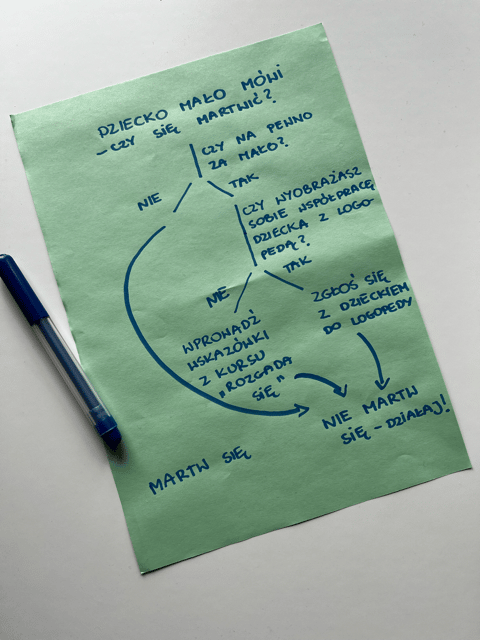 Czy się martwić? Nie, DZIAŁAĆ! Ja też jestem z tych mam ciągle odczuwających niepokój o rozwój dziecka i wiem, co czujesz – dlatego zaufaj mi, będąc w działaniu spożytkujesz na to energię, którą do tej pory przeznaczałaś na martwienie się i gdy tylko zobaczysz postępy, odetchniesz z ulgą.
Czy kurs " Rozgada się " zastąpi wizytę u logopedy?
Nie, nie zastąpi indywidualnej diagnozy. Ale jeśli nie wyobrażasz sobie współpracy Twojego dziecka z logopedą, jeśli musiałabyś długo czekać na wizytę lub logopeda nie jest dostępny w Twoim miejscu zamieszkania – kurs jest alternatywą.
Przekazałam w nim wskazówki, które otrzymywali rodzice moich uczniów w czasie mojej 9-letniej pracy w gabinecie. Kurs kosztuje tyle, co 1-2 wizyty u logopedy i jeśli nie przyniesie efektów i uznasz, że potrzebujecie indywidualnej diagnozy – możesz otrzymać zwrot pieniędzy, wystarczy że do mnie napiszesz w ciągu 30 dni od zakupu.
Do zyskania masz bardzo dużo, a do stracenia… zmartwienia 🙂